Ductless Air Conditioning Pawtucket
You No Longer Need Ducts to Enjoy all the Advantages of Central Air Conditioning & Heating.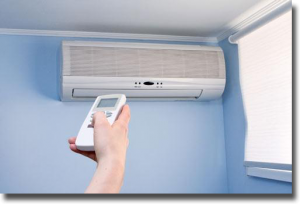 Let's say you've added a room to your home that your central air conditioning system can't reach. Or, you already have a room that isn't air conditioned, but you'd like it to be. Or, for that matter, there's no duct work in your home, it can't be added, but you're looking for alternative means to heat and cool your home.
That's the idea behind a ductless air system, one of the "coolest" new ideas in home comfort to come along in years.
Each ductless system can cover up to four rooms from the same outside condensing unit…with no duct work whatsoever.
Instead, the system's air enters your living space through wall-mounted blowers.
Here's more about ductless air systems:
You can purchase a system that provides cool air only, or heating and cooling combined.
They're more energy efficient and attractive than window units…more secure, too!
They provide super quiet operation.
The units are completely programmable and operate by remote control.
Ductless air systems are also known as mini-splits, but regardless of what they're called, the benefit is the same: perfect indoor conditions without the need to install ducts, or in the areas of your home where duct work simply isn't practical, or doesn't exist.
For more information or a no-obligation system proposal, contact Almeida Plumbing, Heating & Air today.
Call us: 401-949-0040